Church Programs and Resources
Tools for equipping the saints for ministry!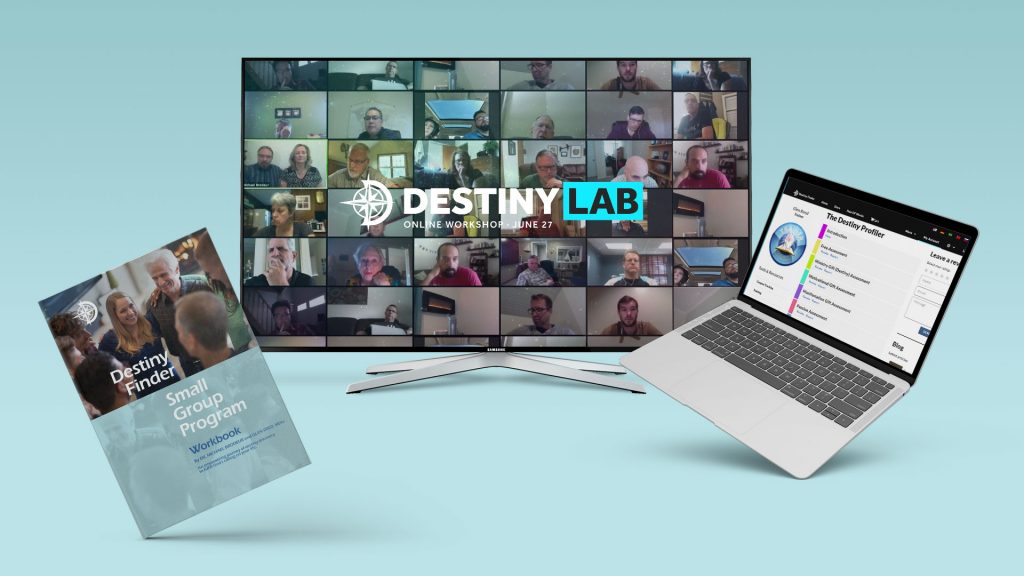 This is the full 8-hour workshop done live online, with group coaching. Includes the Workbook and more.
The LAB is done several times a year.
Profiler Quantity Discounts
Get a quantity discount on the Profiler assessments tool for your church, group, family or friends.
Quantity Discount
2-9: 10% off
10-49: 20% off
50-100: 30% off
More: contact us for special pricing.
How Quantity Discount purchases work:
If you purchase MORE than one Profiler, and you've never purchased it yourself, you'll get one assigned to you and you'll receive a 100% off coupon code for the additional ones your purchase (it's NOT a buy one get one). For example if you purchase two, you will get one and have access to it immediately, and you'll receive a coupon code for one more person to get it for free; they will need to buy the Profiler and use that coupon code in checkout and get it for free. If you've already purchased the Profiler for yourself, you will get a code good for two people.

When you make the purchase of more than one, you'll receive an email with a 100% off discount code to give to others. See #1 above to understand how many it's good for.

When the number of codes used reaches the maximum quantity purchased, the code will expire and you will receive an email notifying you of the expiration.

Once you make a quantity purchase, you will notice the Coupon Tracking menu in Settings (the gear), to let you monitor how many coupon codes have been used and by whom.
Destiny Finder Workshop Video Series
(8 sessions)
Teaching by Michael Brodeur that covers the entire program used for the Destiny Finder Workshop and Small Group Program. The series consists of eight 30-35 minute video teachings that cover the complete destiny discovery process. These videos are included in the Destiny Finder Small Group Program.
Videos are available in the Pastor's Coach store (8 videos): $99 – Click here to get the videos in the Pastor's Coach Store.
---
Destiny Finder Small Group Program
This is a unique life-changing and church-transforming series on destiny discovery and fulfillment that 8 sessions. It's Bible study, discipleship program, personal growth experience, leadership development group, care group, and more all-in-one! It combines the Profiler online tool with eight video teachings and a Workbook, Leader Guide and more! This program will enable you to get your members mobilized, using their gifts according to their passion and moving forward into their calling.
The Destiny Finder Small Group Program contains the following:
Eight-session

Destiny Finder Workshop Video Series

for use in the small groups or classes. Each video is 30-35 minutes long; teaching by Michael Brodeur.

Workbook, 48 pp. The Workbook parallels the Workshop Videos and contains the entire Destiny Finder process with teaching summaries, worksheets, and group discussion questions.
Leader Guide, 25 pp.

with teaching on how to lead a group, how to develop people, the Destiny Finder small group model, team job descriptions, and a complete week-by-week schedule and activity guide.

Program

Handout (editable)

Program

Flyer (editable)
Email templates

to communicate with participants

(editable)
Profiler – Complete List of Questions and Gift Descriptions

document 66 pp.
Cost: $299 but only $199 special introductory price. This includes only one free Profiler; Profilers for each participant must be purchased separately (see following).
Format, Downloads, Printing
All materials are digital and compatible with Mac, Windows, IOS and Android.

The

Videos

can be downloaded to a USB drive or computer.

The

Workbook

and other documents can be downloaded and printed for up to 200 participants. Purchase another program for more than 200 participants.
Each individual will need the Destiny Profiler and these can be obtained several ways.
The Profiler can be purchased individually.

The church or group can do a quantity discount purchase and get up to 30% off. In this case, the purchaser receives a special coupon code to distribute to the participants for free or a charge. The participants then are able to use the coupon code to sign up and buy the

Profiler for free, and do the assessments

The church can send us a spreadsheet with all participants and we do a bulk import that gives the

Profiler to each person and sets up the feature for designated coaches to view the results of team members they work with..
Special Feature: Coaches can view member results
The

Profiler

has a feature that enables your organization to designate one or more coaches, and the coaches can view the results of specified members they work with.
$299 — Introductory Price ONLY $199
"This class has helped me dream big and pull them down to a future reality. Michael is amazing at coaching destiny. The combination of the online surveys, Michael and the team has brought major clarity."
— Shirah Smith
The Destiny Finder Live Workshop (On-site)
"The Destiny Finder workshop was amazing! Thanks to your material, and the touch of the Holy Spirit, my wife and I went from having somewhat fragmented goals and dreams to aligning our dreams in one accord! Praise God and thanks so much for your vision."

–Alan Cerro, President, Planning & Development, Dutra Cerro Graden, Dublin CA
This 10-hour workshop is taught live by Michael Brodeur and/or his team. Participants go through the entire destiny discovery process which includes the online Destiny Profiler assessments, as well as the second and third modules, which have not been implemented online yet. The presenter/coaching team provides coaching and feedback to participants. The workshop also includes small group discussion, worship and prayer ministry.
This is a very powerful experience that helps participants discover their destiny and begin to move forward into it in practical ways. The workshop has been presented in churches around the world and the response is always overwhelmingly positive!
Included are the following:
Online Destiny Profiler assessment surveys and reports for all participants
Participant Workbook
Small group discussion
Ministry time and prayer
Cost: $99 per person, plus travel costs for our team to present.
Options:
We can train your team to present the workshop (Train the Trainer).
The workshop can be done using our teaching videos ($99)
Other options may be available; please ask us.
Call Glen Reed at 916-467-9934 or email us at [email protected] to bring the workshop to your church or group.
Destiny Finder Live Workshop Online
Our team can't travel all the time…. so we can deliver the workshop to you via Zoom.
This is how it works: Your members meet at church locations, homes or individually. Michael and/or our other coaches present the teaching portions of the workshop live online using Zoom or other online video app. They are able to interact online for Q&A. Group discussion, coaching and ministry led by coaches or designated leaders takes place online through Zoom breakout rooms or at the church locations.
Cost: $79 per person plus $100/webinar setup cost. Other options may be available; please ask us.
Call Glen Reed at 916-467-9934 or email us at [email protected] to arrange for the Workshop Webinar.
Destiny Coaching for Individuals
We have Destiny Finder certified coaches, who are also certified life coaches, available to do coaching sessions by telephone or Skype. One or two coaching sessions could save you a year of frustration.
Personal Coaching Cost: $100/50 min session. Buy three, get a fourth session free. More information: Coaching Description
Ready to schedule coaching: Purchase Coaching
Coach Can View Member Reports
Your church or group can have your own coaches work with your members. Coaches can view the online assessment reports of the people they are coaching (with their permission). This is a great feature that complements Destiny Finder being used in the church and/small groups.
Coaches will need to be approved and may need to complete a Destiny Finder Coach Certification Program (see the next section).
Some manual work is required to setup the coach, the coach's team and associated members. Once the setup is complete, the designated coach will View Team link. The coach can view his/her team members and view their assessment reports.
Cost: $100 setup per coach plus $5 setup per person to be coached.
Call us at 916-467-9934 or email us at [email protected] for more info on this great feature.
---
Destiny Finder Coaching Course
Coaching people on using Destiny Finder. 
Taught by our CEO, Michael Brodeur. This course is primarily for churches and groups that are using Destiny Finder in small groups or one-on-one discipleship or classes. The program prepares leaders to use the Destiny Finder material in coaching others. It's expected that leaders using this material will have gone through the Destiny Finder Small Group Study Series, and have completed the Profiler assessments. 
The program contains the following:
– Introduction
– 2 sessions on coaching people in the Destiny Finder process
– Total of one hour of video training.
Course Cost: $49
---
Life & Destiny Finder Coaching Course
Basic life coaching principles and destiny coaching. 
Taught by our Coaching Director, Jeff Wittmer, and our CEO, Michael Brodeur. This course is for churches and groups that want to have their own people coach their members. The program prepares coaches to do general life coaching and to use the Destiny Finder material in coaching others. Coach candidates are expected to have pastoral, life coach, counseling, group leadership or business management experience of some kind, and to have gone through the Destiny Finder Small Group Study Series, and have completed the Profiler assessments. 
The program contains the following:
– Introduction
– 7 sessions on life coaching principles
– 2 sessions on coaching people in the Destiny Finder process
– Total of 5 hours of video training.
Course Cost: $199
---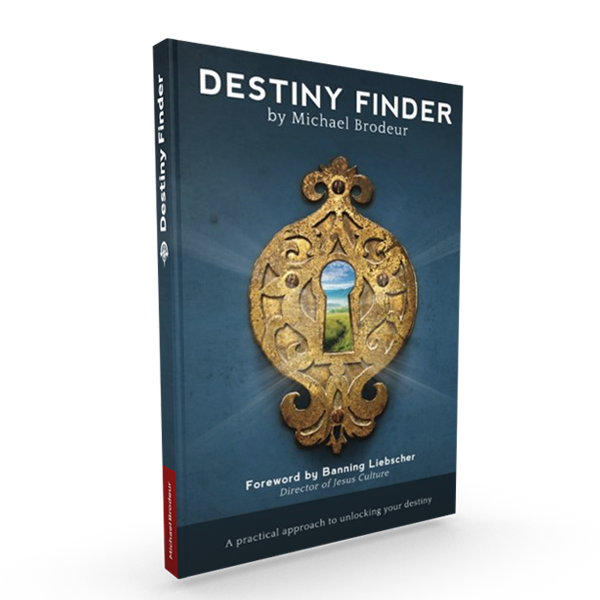 Bulk Purchases for large groups
Get Michael's seminal 220+ page book on destiny discovery at a quantity discount.
This 220+ page paperback by Michael Brodeur lays the biblical and theoretical foundation for an understanding of God's plan to expand His kingdom though personal destiny discovery and fulfillment.
The book is the "text" version of the original Journey Guide, which contained the entire destiny discovery process developed by Michael. It is a more complete version of the paper version of the guide we have used for years in helping people in the destiny discovery process. It provides a complete explanation of the biblical foundation and the life application of our approach to destiny discovery.
The first part of the book covers what is the basis for the Destiny Profiler, the online version of the first component of the whole process.
The last two thirds of the book cover the second and third components of the destiny discovery process. It's the basis for the online versions that are in development at present – developing a plan and getting launched into your destiny.
The book has Michael's personal story interwoven throughout. It is the story of a young man raised by counter culture parents in the heart of San Francisco, who became a new age hippie seeker of truth, who discovered Jesus as a young man and went on to become a leader with a passion to help people understand their calling and get launched into the ministry that God designed for them.
Foreword by Banning Liebscher, Director of Jesus Culture.
---
We have a companion website pastorscoach.com. Building on Michael Brodeur's many years in ministry since the late 70's planting a church, launching ministries, pastoring pastors and overseeing churches, Pastor's Coach is just what the name says – we coach pastors and leaders to do the best job possible fulfilling the call of God on their lives to build strong churches and ministries that impact their region. The Pastor's Coach website contains a comprehensive church health assessment, outreach assessment, hundreds of teaching videos, articles, resources and more.
Pastor's Coach works in conjunction with Destiny Finder materials for individuals to provide a complete program that will revolutionize your church.
Pastor & Church Consulting
Pastor's Coach also provides coaching, training, church health assessments, candidate evaluations, conflict resolution services and vision casting workshops or pastors, leaders and churches. These services can be provided by telephone, Skype and onsite, by Michael Brodeur and other seasoned coaches, all of whom are former pastors and are certified by Pastor's Coach.
Cost: $200/hour for phone & Skype consulting.
Call to get pricing for onsite consulting.
Call us at 916-467-9934 or email [email protected] for more information on our programs  OR for something you want but don't see listed. We wil partner with you to bring you the services and products that you need. We are committed to mobilizing the body of Christ to do the works prepared by God beforehand for us to do. (Eph. 2:10)